Posted by mo nyong
Posted on 11:01 PM
Happy Pink Saturday and thank you to Beverly of How Sweet the Sound for hosting this event. I visited with Suzanne of Shabby Chicks, Jamie at Him, Me and Our Three, and Spindle Cottage.

The subtitle to this post could also be "Shopping th' House" also. You'll see when you get to the bottom photos.

Remember these little pink things I showed you the other day? Well, I had an idea in mind that I've seen a couple of other places, probably a LOT of other places, but I've only seen them in one other blog and they were done up in tissue paper or old dress pattern paper or something like that. I decided to dye coffee filters and put them up in the living room. I almost killed myself! Love Bunny was teaching a class that day and not around so I went ahead and did it myself.

First off, I strung a couple of hundred of them on a long string of yarn. I think I'll do more soon so they'll probably show at the very end of this post. Being too lazy to go grab a ladder, I climbed onto this feather-filled sofa. (Have you

ever

tried to walk on a soft feather sofa? Do

NOT

try this at home!)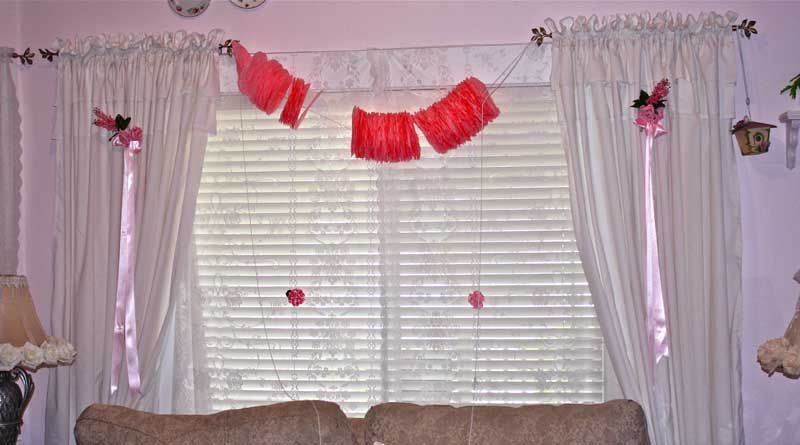 Too droopy for me so I had to tighten up the yarn. I'd forgotten how forgiving yarn is.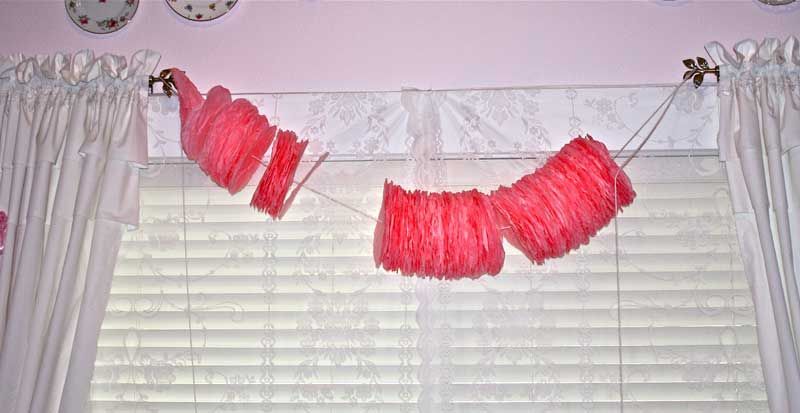 Then little Miss Priss here decided to stand on the arm with one foot and on the back of the sofa with the other foot. Read the last sentence above the first photo. *Wink*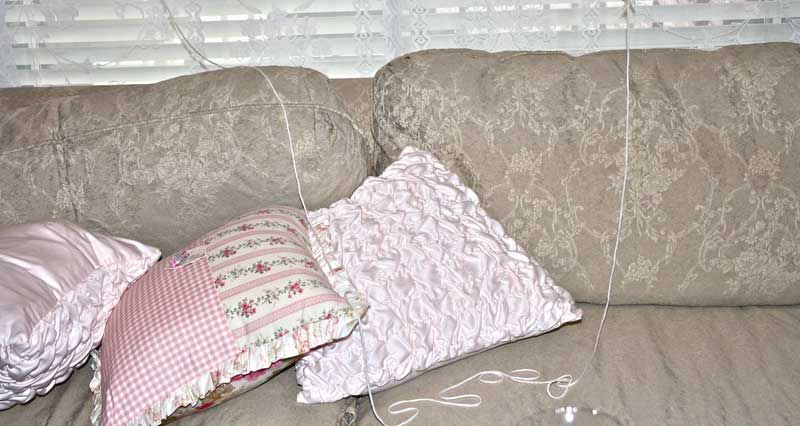 One side of the yarn wrapped around one foot and the other side wrapped around the table leg below. Read the last sentence above the first photo again.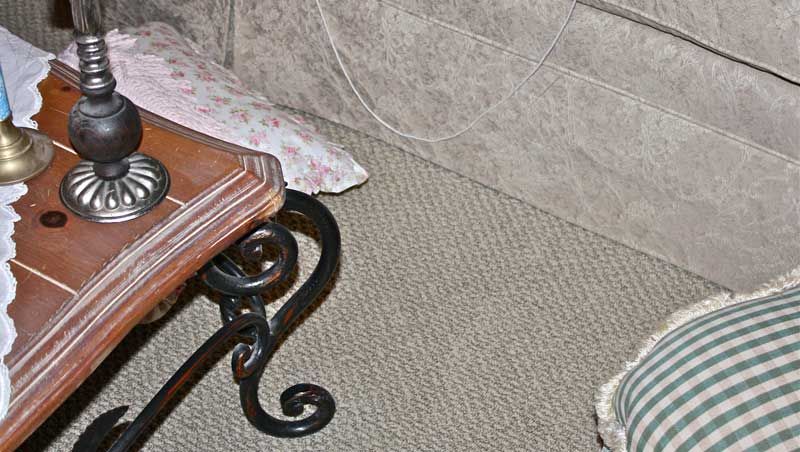 I didn't end up on the floor on my back only because my guardian angel was watching over me. Okay, so I tightened it up a bit but think I need a tighter grip on the yarn.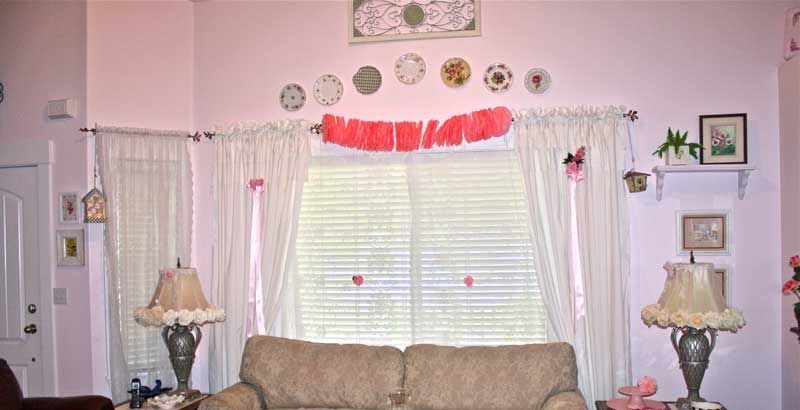 And no matter how red it looks to you here, I can assure you the color is definitely pink!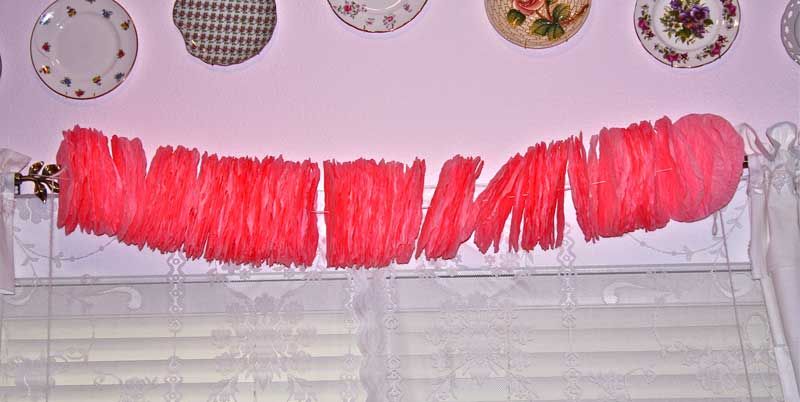 Okay, fast forward to the next day and here I am but with a ladder this time. I dyed more coffee filters. You'll have to trust me when I say that in the house you can see very, very little difference in the new ones I dyed last night and put up on the left. I have no idea why they look red in this photograph. But I did, however, spend the evening dyeing about 200 more of them. After drying overnight and a bit more in the sun this morning, I hung them up.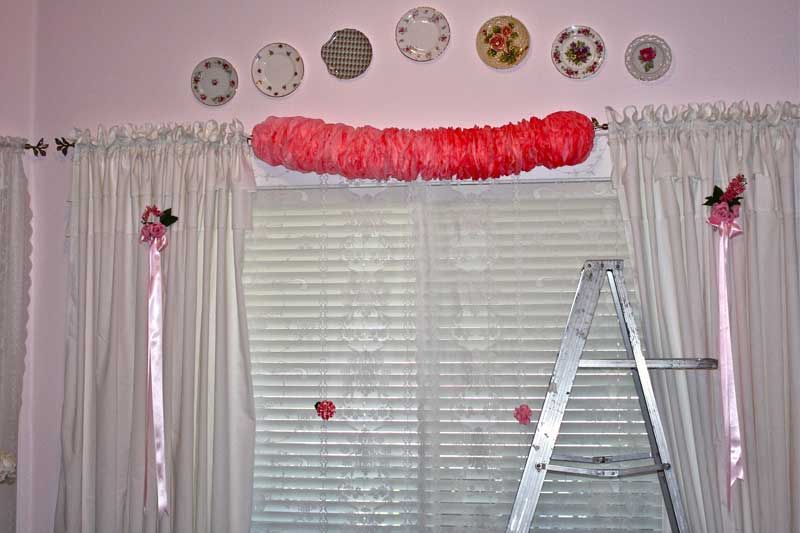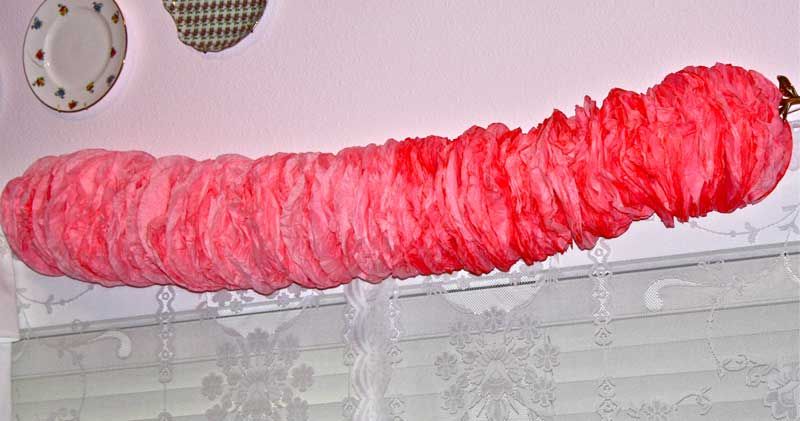 I then went along and scrunched them with my hands, just grabbed several at a time and scrunched good and tight. I like that look much better. They don't look so much like a disker that the farmers around here use. ;-)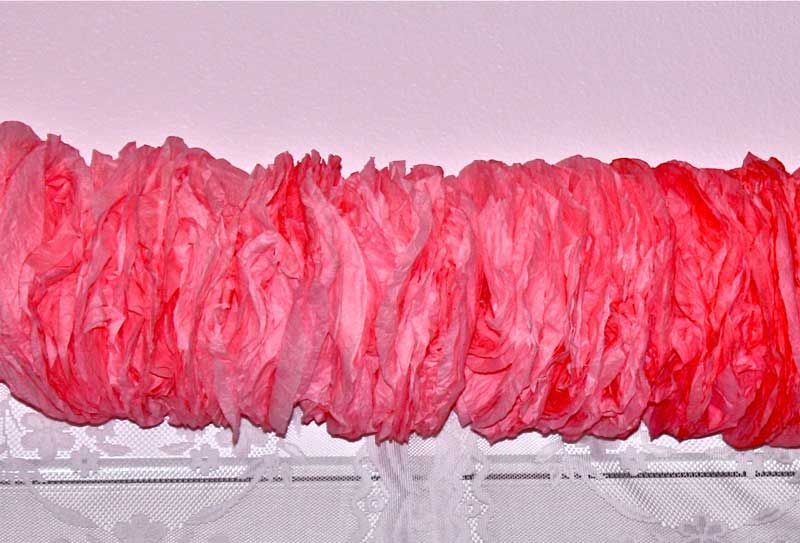 View from left.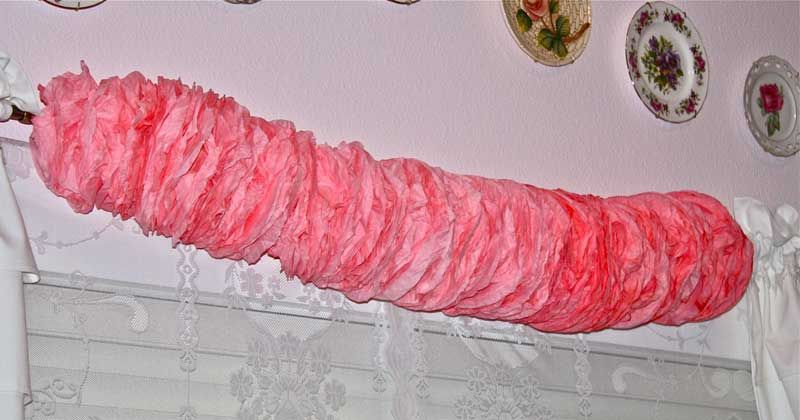 I like the little taste of pizzazz it adds to the area.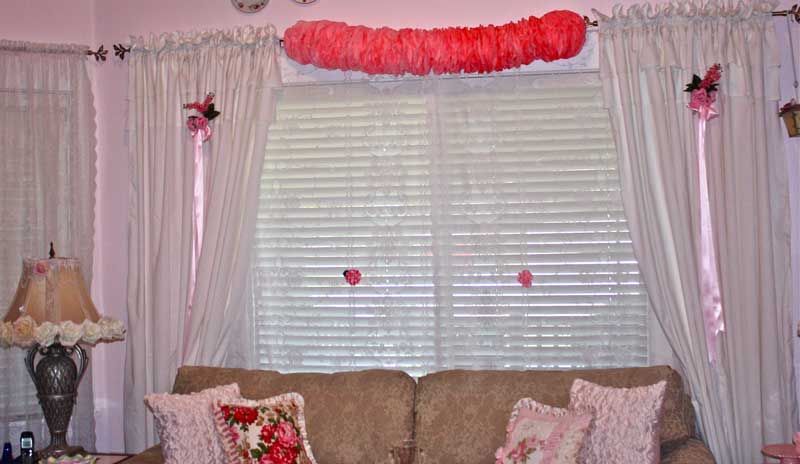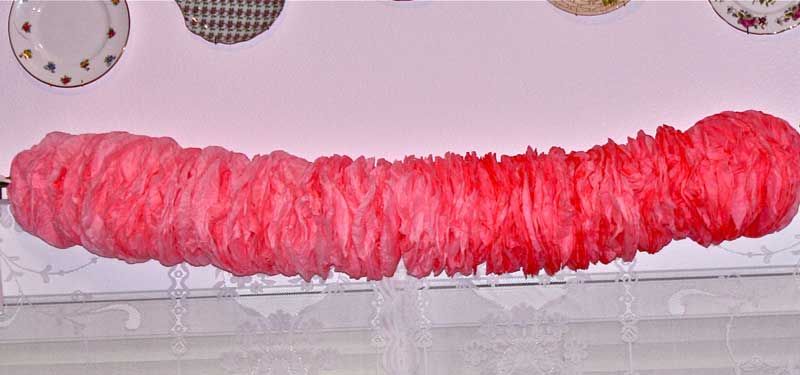 Then after risking life and limb hanging the garland, I decided to shop the house again and switch out some pillows. These were in the family room. My rooms are ever evolving/changing. Now, remember that I have new white duck slipcovers coming! That will make a huge difference in this room I think.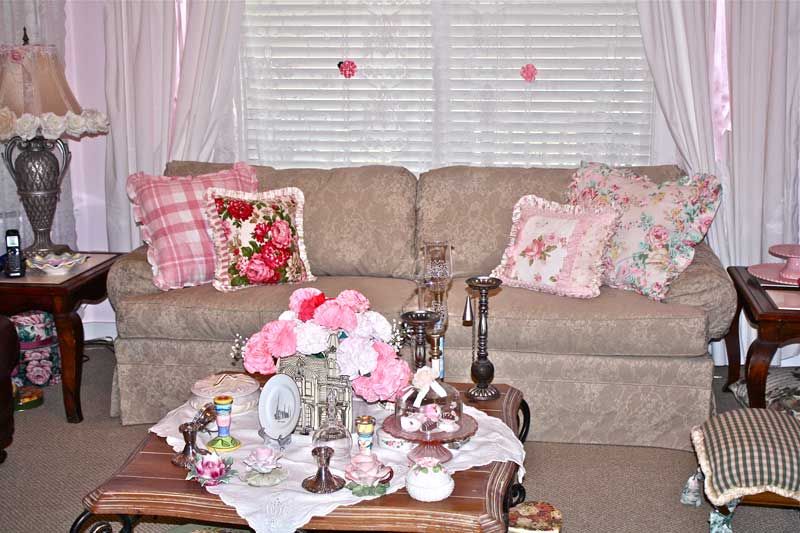 I still haven't redone the coffee table. That will come soon.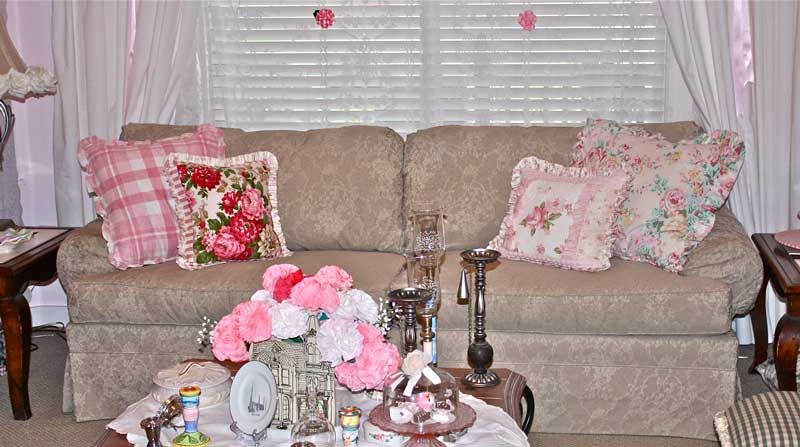 I love the look of these pillows and with the new slipcovers even more so.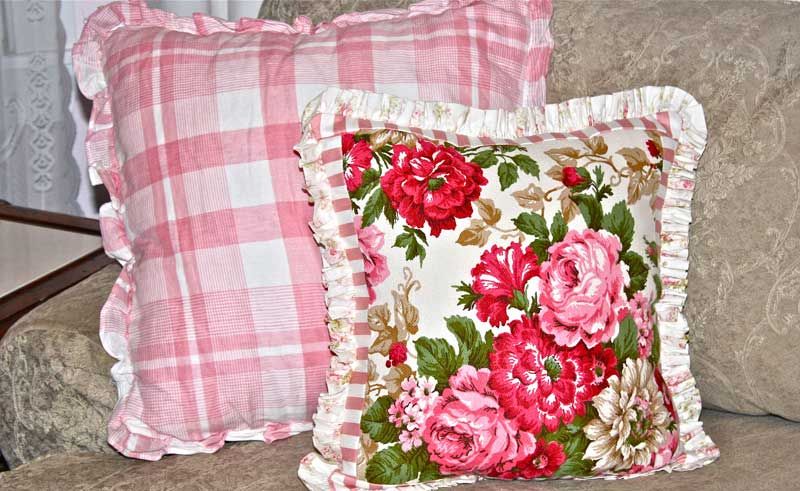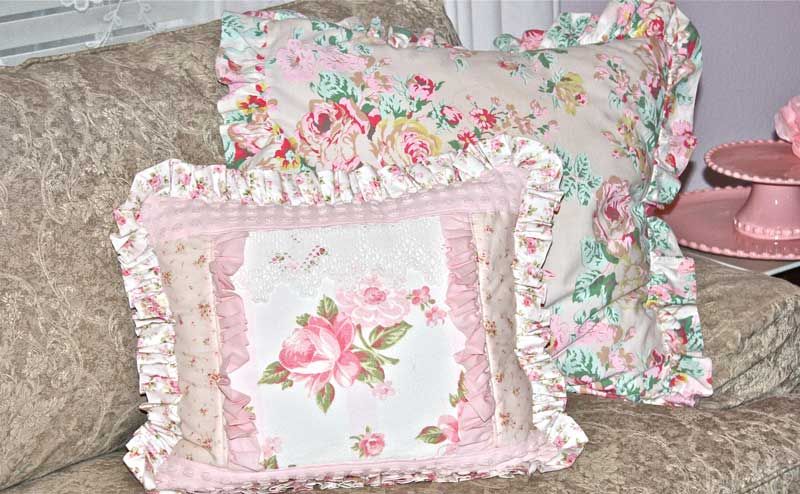 I've been thinking: Should I paint the lamps white? What do you chicks think? And I apologize for so many photos but I just wanted you all to see them well enough that you might want to do it somewhere in your little cottages.
~*~
Posted by mo nyong
Posted on 5:16 AM
I have conflicting emotions about a vacation I start today. I'm excited to have some time off of work and yet I'm definitely going to miss the many customers - and volunteers - who have become like a second family to me. You make me smile whenever I see you. You've shared triumphs and trails with me. You ask about things I've written on the blog and know I prefer to be called Susan. In the weekly comings and goings you've become a friend and I'm going to miss you.
Now before you think I'm gone for the next month - let me clarify - I'm off the next two weekends and the week in between - that's all, not a big deal. Yet as someone who cries and gets all sentimental over greeting cards and every Hallmark commercial ever made - maybe you can understand.
Speaking of sentimental look at the photo I took after church on Sunday of my son, Jack; daughter, Abby; and one of Abby's best friends and someone I love dearly, Liz. It the first time since the beginning of June we've all been together and though it was for less than a day - we had a wonderful time! Aren't they cute?!
And with that, dear reader (and friend), let me show you some of the "new" items you can find at Jubilee Furniture today (Friday) from 1 to 8 and tomorrow (Saturday) from 9 to 4!
painted desk with lighted hutch for $65
four metal chairs for $50 and table with black legs for $40
cool table for $35 and each chair is $25
blond five drawer dresser for $85
we received a number of super nice dressers in this week and here's one of them - I'm talking about the lighter wood piece in the center of this photo - it has five drawers and I priced it $85
this large pine dresser with a mirrored hutch is gorgeous and priced $195 and the matching chest of drawers in the photo to the right is $145
can you see the metal headboard and foot board of this full-size bed? It's very fun and priced $95 (mattress and box spring sold separately)
this is a massive and amazing king-size bed and is priced $135 - the only issue with it is there should be four knob-like things at the top of each post and the donor couldn't find one of 'em (she was moving and thought she would come across the fourth one and would drop it off if she did), but for now we only have three
I love the height and style of this dresser which has 12 drawers and is priced $125, the matching nightstand is $45
This is a gorgeous love seat that is priced to sell even with the front leg needing repairs (can you see in the photo to the right where it needs to be re-glued?). Price? $45!
Love, love, love this side table which is priced $75
amazing Chris Madden chair for $85 (needs to be cleaned otherwise in excellent condition)
it would be hard for me to pick a favorite piece this week but if you put my feet to the fire I might have to say this retro china cabinet - I love the clean lines and beadboard behind the open shelf and on the two bottom doors. Priced $125
slipper chair for $45 and matching love seat for $50 (love seat much more worn than the chair)
this is a nice two piece deep purple corduroy sectional except it has some fading and a rip on one seat cushion (and the other side of the same cushion is stained) so priced only $125
lovely camel back sofa for $75
here's another nice camel back sofa this one is priced $65 and it does needs to be cleaned
tan - fake leather - swivel, rocker/recliner for $45
amazing retro sofa - unfortunately non-original seat cushions were added (obviously covered in a different material and pattern - not horrible - but definitely off) - priced at $45
cool trunk for $40


For those of you familiar with the store (and those of you who regularly read the blog) you know we moved the metal bookcases last week (which really opened up the place), well this week the wood fencing barricades have mostly been removed - the trench covered - and furniture added to that previously unusable space. The store really looks fabulous!


And with that, I'll sign off until the week of August 9th!


God's grace, blessings, peace, protection and love to each of you!
Posted by mo nyong
Posted on 11:01 PM
It's time for a new meme, chicks! Back on a June post Because Froufrou Counts I mentioned this and at that time received nine emails from women who were interested. I also mentioned that I wouldn't start it until a friday in July. Well, since we only have one more friday—this one—and Love Bunny has dragged me off to the wilds of Idaho and wilds of Oregon for camping and my kids are here at this moment I thought it was time to do it. (I'm composing this on 7/24/10, just so you know.)

With that being said, here are the rules.You post something on a friday that is froufrou or feminine (you decide) and then you have to put this button on your sidebar. Only the original nine will be on there unless you email me when you see the logo on the sidebar. I'll begin a list. I'm not using linky at first, if ever. I'll decide later on. I like the list better. To contact me, check the sidebar for "Email Me" and drop me a line. Easy peasy!

The code is appearing on the sidebar for bloggers wanting to join to snag and put on their sidebar. It must appear on your sidebar. (And I will check.) If you don't know how to do this, email me and I'll help you put the code on. So please put it there to encourage others to share their froufrou.